Our new version not only gives you access to more than 60,000 radio stations, but also more than 1.7m podcasts. You can listen to podcasts, subscribe to podcasts, download episodes, save favorites, and more. What makes our new app so special? All your favorite stations and podcasts in a single app.
The app is divided into the following areas:
RADIO ・ PODCAST ・ FAVORITES ・ SEARCH
RADIO
The RADIO section is your home page. Here you find your recently played stations and many other cool features. You can easily continue listening where you left off but also get diverse recommendations such as the Top 100 on radio.net, the most favored news and culture stations, regional stations and further suggestions that match your listening habits. You will also see editorial picks, which provide exciting inspiration and give you a quick overview of the various content. New favorite channels are always just a tap away.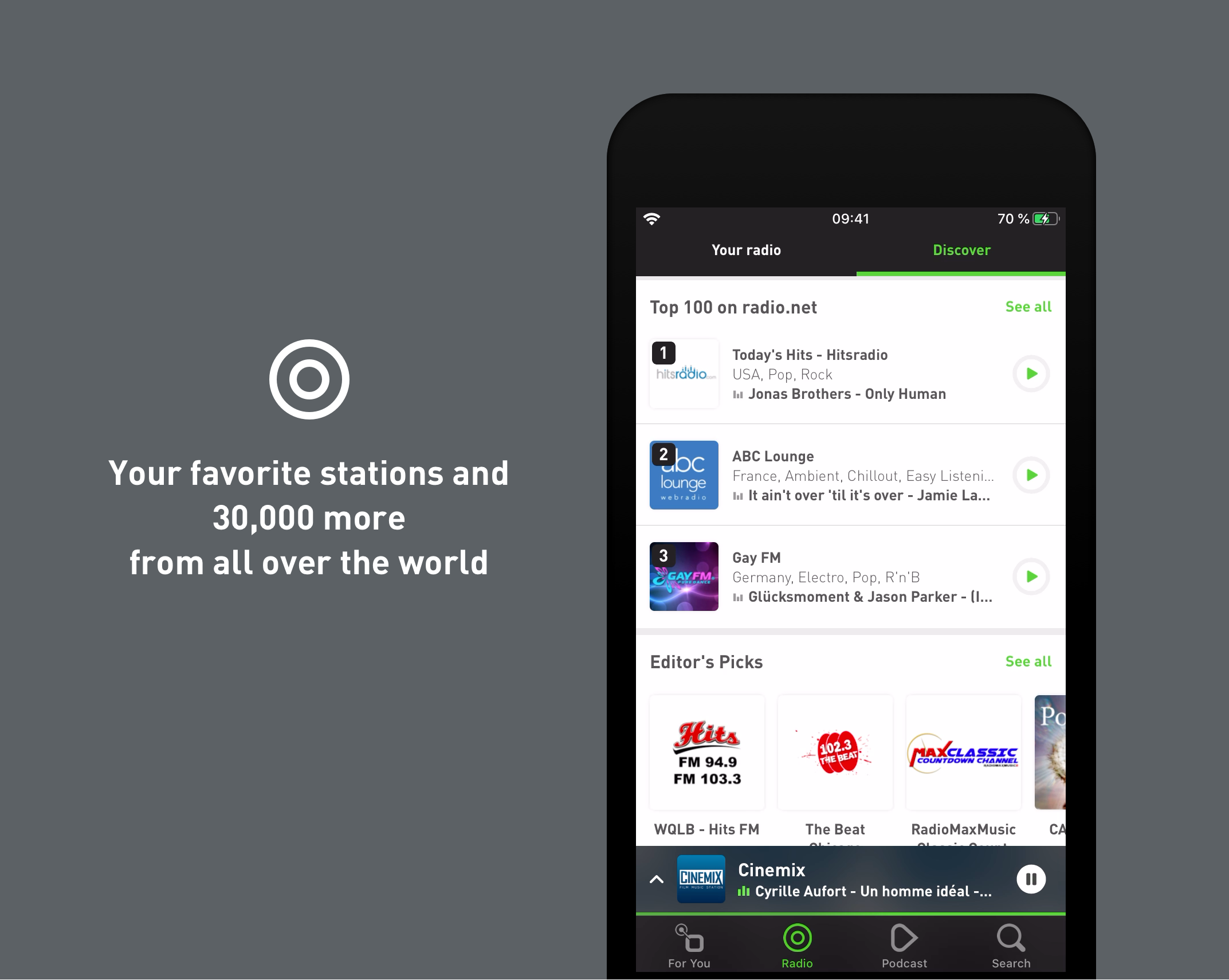 PODCAST
The PODCAST section offers trending podcasts, the Top 100 on radio.net, to the most popular podcast categories. Discover our huge podcast content from different topics like comedy, crime but also news, politics and the world.
FAVORITES
The FAVORITES section is your personal space. Find your favorites in the tabs MY RADIO and MY PODCASTS, continue listening where you left off and manage your downloads. You can listen to downloaded episodes even when you're offline. The variable playback speed optimizes your listening pleasure. Enable the Auto-Delete option to save space on your smartphone or tablet. Auto-Play always plays the next episode from the current playlist. Of course, you can also receive notifications when a new episode of your favorite podcasts is available. You can keep an eye on 'My downloads' and access 'My memory list' whenever you want to save and listen to a podcast later.
SEARCH
We'll find the content you're looking for. Use our easy-to-find SEARCH for stations, podcasts, episodes and songs. Want to get inspired by others? We display 'Often searched' terms.
SETTINGS
In the 'Settings' you will find the option to stream only in Wi-fi or to download only in Wi-fi. You can also select the Auto-Delete and Auto-Play options here. Auto-Delete deletes all downloads you have listened to from your device after 48 hours. Auto-Play allows continuous playback. The app will automatically play the next episode from the current context.
Of course, the sleep timer and an alarm clock are still available. The sleep timer lets you relax and fall asleep with your favorite station or podcast and ends playback at the desired time. Do you want to be woken up by your favorite station? Then use the radio alarm clock and start directly with your favorite station on selected days. You can select and use both via the 'Settings' or directly via the channel or podcast detail view.